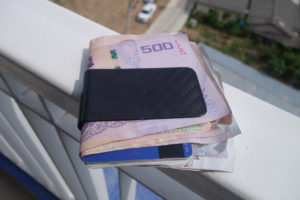 Usually in the UK I carry a leather bifold wallet with a dozen cards, driving license, etc and if I'm lucky, some cash. This was fine then when I was wearing jeans with 4 pockets or a coat, but out here I seem to live in board shorts that only have one small side pocket that also needs to hold my phone and my keys!
Enter the lightest, smallest money and card holding device I could find, the KOOLSTOF Carbon Fiber Money Clip made by Carbon Fiber Designs.
The money clip works a treat, I can carry 2 credit cards, my driving license, door key card for my room and a bundle of notes in something about 4-5mm thick. My empty leather wallet was probably 15-20mm thick, this downsizing leaves a ton of space in my pocket so I can actually fit my phone and keys in there now.
I've been using the money clip for about 3 months and the surface is picking up light scratches, probably due to carrying it in the same pocket as my keys. The spring tension of the clip is still solid though so the scratches aren't really a big deal.
Actually using a money clip is a bit of a pain compared to a real wallet though. Paying for things involves removing a wad of notes from the clip and then fingering through them to find the right ones. Receiving change means you then have to muck around with your wad of notes, folding the new ones in to them and then replacing your clip. It's not as simple as just pulling or pushing notes in to a wallet and more often than not my pocket ends up with a few loose notes in it.