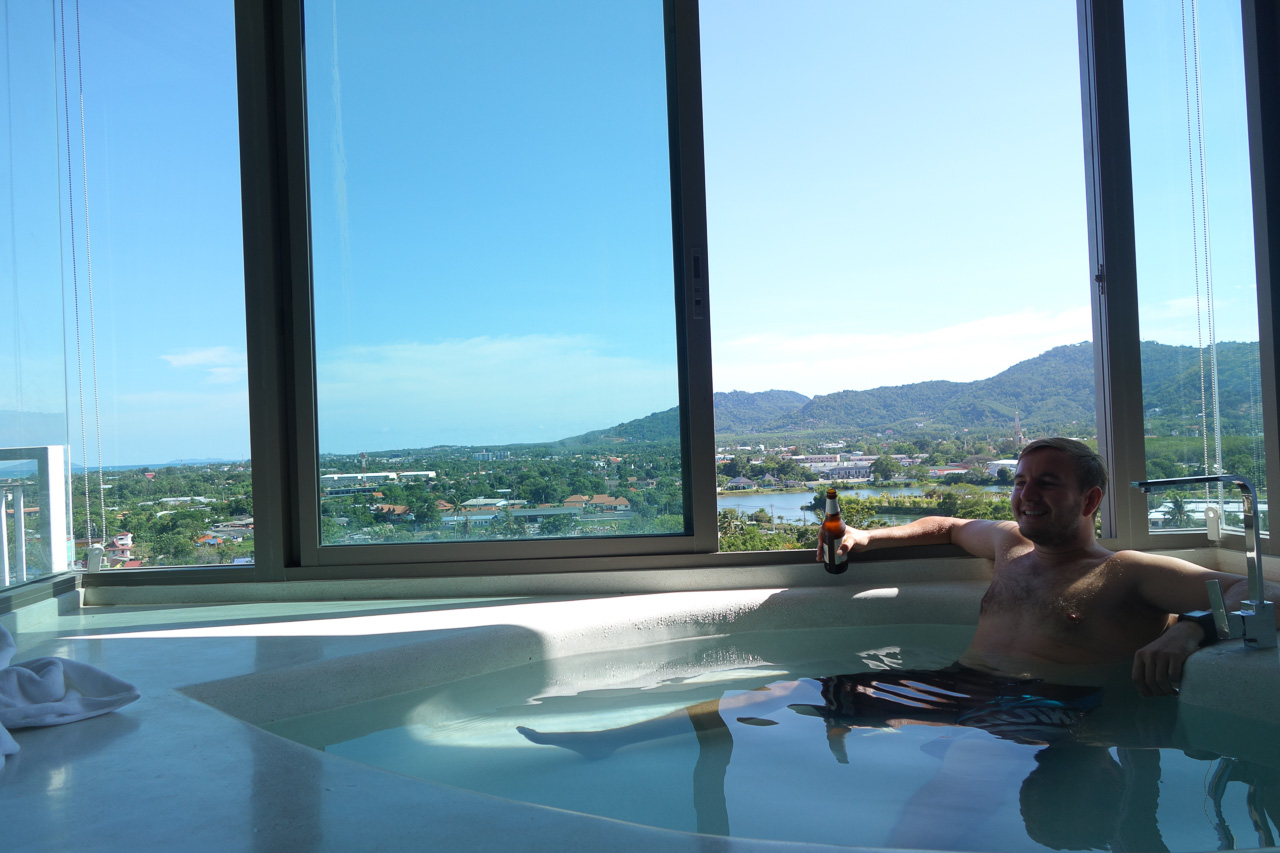 I've spent the majority of my stay on Soi Tad-ied staying in the BM Guest House which was nice enough and covered the basics, single room, cheap (12,000 THB / £240 pm), great bed, working air con, separate shower room, balcony, cleaned weekly, but lacked on luxury, a tiny TV that was miles away from the bed making watching anything on it a bit pointless and Internet that didn't really work. The state of the generic, consumer ADSL on the street is a nightmare featuring regular, daily, intermittent outages, not to mention you're going to be sharing one 500K connection between 30 other people. Whilst I was able to get work done, it was frustrating and we'd tend to end up meeting up at one of the local restaurants to get work done.
Slowly some of the other nomads on the street started moving in to the new kid on the block, the Blue Phuket, so for my last week I decided to up the ante and rent out the penthouse there.
Internet at the Blue still isn't 100% reliable, but it's head and shoulders above what I've been used to and I don't have to share with anyone.
The penthouse features an open plan lounge, kitchen, dining area with a jacuzzi and TV unit that rotates so you can watch it from where ever you are. The bedroom has a large walk in wardrobe as well as it's own ensuite bathroom with two sinks. Off the lounge area there's a 2nd toilet as well as a spare room which currently has a shrine in it. The jacuzzi takes an hour to fill.
Staying up here has been a complete blast. Amazing sea views over Chalong bay. An awesome balcony to chill on and watch the sunset from. The TV is 4k and I've been able to watch so many amazing movies in stunning quality whilst working on the sofa, as well as play a few computer games. Having this much space has definitely changed my attitude whilst training here, I've had room to move and breath.
Whilst my friends and I regularly meet up and eat out together, this is the first time I've had the ability to eat at "home" around a table so we've been able to do simple things like have a curry night round the 6 seater table. Being able to do that in the privacy of the penthouse just made it so much better.
Obviously I'm not going to be living like this all the time as it's an unnecessary extravagance. One of the biggest takeaways from the Drop Ship Lifestyle conference was definitely "money you don't spend is money you don't have to earn" but I'm not going to lie, it's totally awesome.