After the amazing last week at the Drop Ship Lifestyle retreat, due to all the questions I was asked in the evenings, I've decided to do a Drop Ship Lifestyle ride along. I am going to create a new drop shipping store and cover every aspect of the process from the very start for you guys. Along the way I will explain exactly what I'm doing, why I'm doing it and how the store is going!.
What Is Drop Shipping
The principle of drop shipping is quite simple:
Your customer buys a product from you for £x
You place an order for that product from your supplier for £y
Your supplier delivers the product to your customer
You keep the profit, the difference between the £x your customer paid and the £y you paid
Drop shipping can work in both physical stores and online stores. If you've ever ordered an expensive product from a small, specialist store and then had to wait a few days for that product to be delivered to the store, it was probably drop shipped. When I was fire dancing in Brighton I'd regularly have pyrotechnics drop shipped to the small, local shop that dealt with stage lighting!
As I am an Internet marketer we will be building an online store together, so it is manageable from anywhere in the world.
Niche Selection
Niche selection is the first and arguably one of the most important aspects of creating any e-commerce business. If you start out with the wrong niche you might find it impossible to find suppliers to work with or, later, impossible to make sales due to the cut-throat competition.
The niches I am investigating observe the following rules:
Over 2000 searches a month for the main keyword
Targeting small businesses or the upper middle class
Average product price is £200 or more
No famous name brands
Over 2000 searches a month for the main keyword
When picking a niche, you want it to have potential customers. If you pick a niche where no one is buying anything you will not make any money. I like to have my main keyword have over 2000 searches each month as you will need at least 1000 visitors to come to your site in order to track how well your sales pages are converting.
Targeting small businesses or the upper middle class
Small businesses and the upper middle class are good target markets but for completely different reasons. If you're selling expensive products to small businesses then they probably need those products to run their business. If you're selling to the upper middle class they probably have disposable income and are used to shopping online.
Average product price is £200 or more
Simply put, more expensive products have better margins, so we might make as much selling one product for £200 as we would selling 10 products for £20, but we'd have to do 10 times the work and drive 10 times the traffic to make that margin.
No famous name brands
Often niches are dominated by one or two famous brands and customers can often develop a strong bond to a specific brand, limiting what you can sell and how much you can sell it for. With a niche that only features generic brands there is less brand loyalty and you can make sales on the strength of your marketing and the strength of the product, rather than on the strength of someone else's name.
Creating Niche Ideas
There are lots of ways to come up with niche ideas, some people like to only choose niches that they have prior experience in, either as a customer or a seller, for others that can be seriously limiting.
My favourite way for coming up with new niche ideas is to simply abuse Google shopping. By entering really generic keywords, e.g. red, large, etc as well as a high minimum price, e.g. £200 you can quickly come up with a huge variety of products to get inspiration from.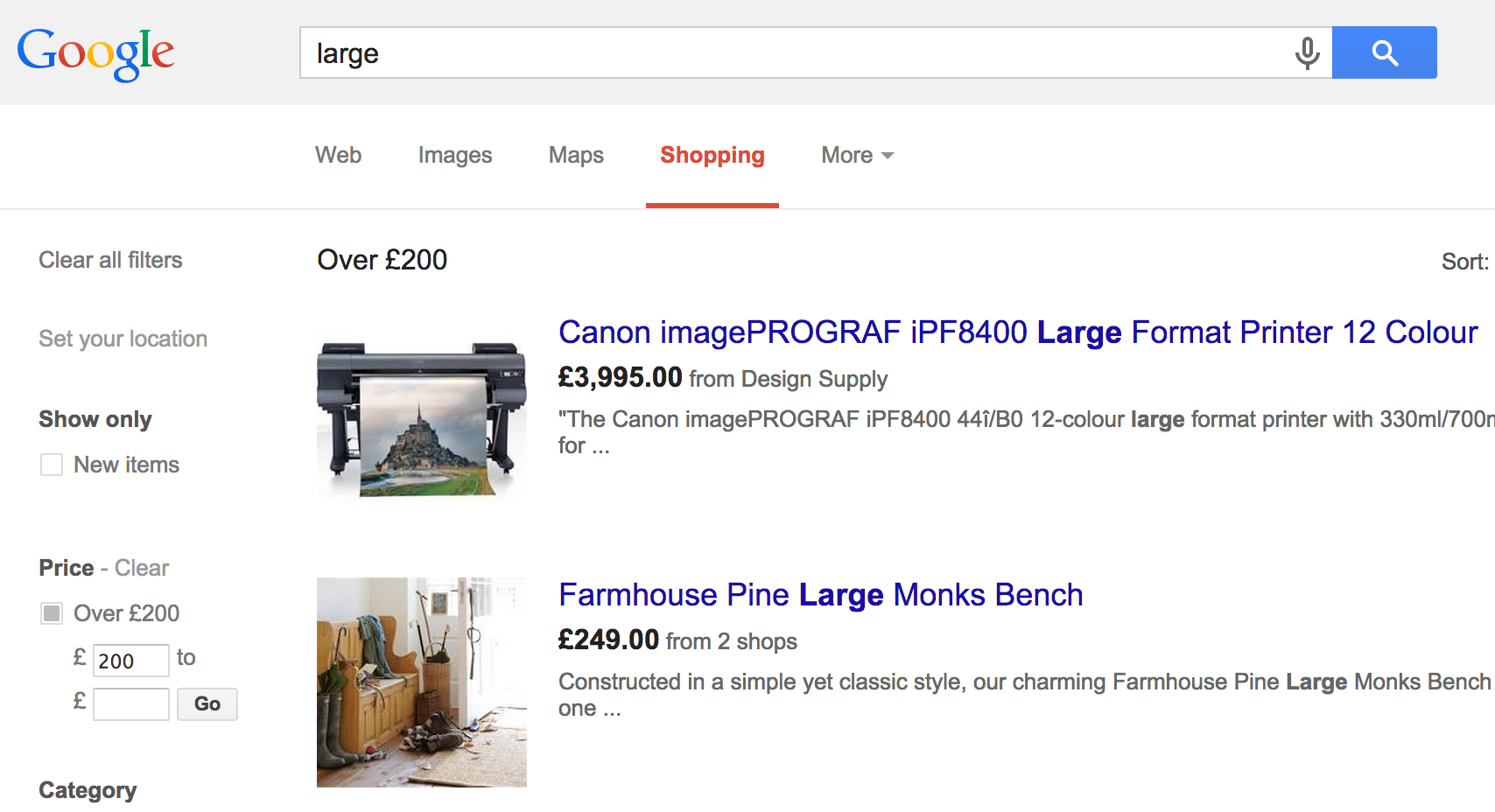 Determining Search Volume
I use a tool called Market Samurai for all my keyword needs. As you can see from the image below, it can produce incredible insights on niche selection, "lava lamp" get's over 6000 searches in the UK alone, not to mention the dozens of other related keywords you can target.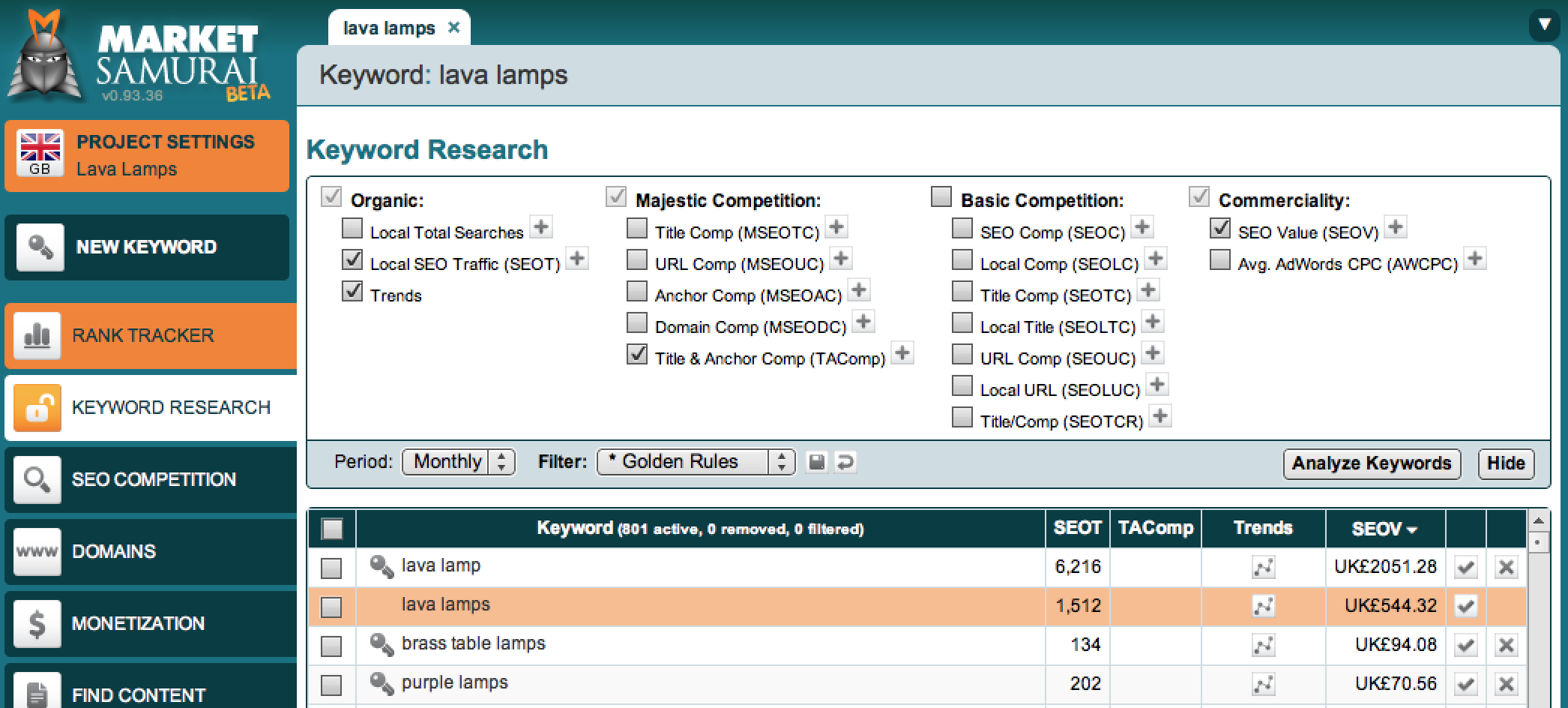 My Task
Using both Google Shopping and Market Samurai, I am now going to compile a list of 100 different niche ideas, for our next step, market research!
If you want to get the jump on me and want more information about drop shipping, Anton's Drop Ship Lifestyle course offers a 60 day money back guarantee if you're not satisfied.