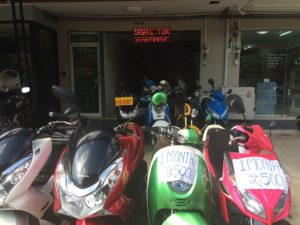 There are dozens of places around Tiger Muay Thai that hire bikes/scooters/mopeds. Most hotels do it, Tiger Muay Thai does it, and there are a few independent places on the street that specialise in it. I hired a bike from 2Home when I was staying there, naively, and paid 2000 THB (£40) for a weeks worth of hire. The bike was ok, but the cost was way too much.
When I moved to BM Guest House, the apartments next door, Star Apartments, were hiring bikes for 2,500 THB (£50) a month. Way better than hiring from 2Home. They also did the thing where they circled the damage to the bike on a bit of paper, as you can see the previous riders kind of sucked. The beauty of the paper being completely blue is it's pretty much impossible for me to get a fee if I damage it as everywhere is ringed .. 😀
Bike rental should include a helmet, but in reality you should never wear a second hand helmet as you don't know if it's been dropped on the floor or already been in an accident. The material inside that offers protection is one use only and disintegrates to absorb the impact force. Saying that most people here don't wear helmets anyway. There is a Ducati shop a few hundred meters off the street if you want a proper, reliable, full face helmet, but it will cost you.
It definitely pays to shop around, and whilst there are horror stories of bikes getting stolen back by the owner and being charged for damage that never happened, I haven't heard of that happening to anyone who's rented along this street. Those stories are always from a few years ago from other areas of Thailand. The businesses on Soi Tad-ied are trying to be as legitimate as possible and in it for the long haul.