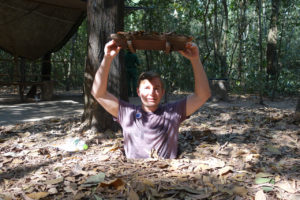 That's how Ho Chi Minh was described to me. If Chiang Mai is high school then Ho Chi Minh is college for digital nomads, and it certainly felt that way as everyone I met was a lot further in to their career path than the people I met in Chiang Mai. Ho Chi Minh is also a mecca for members of the Dynamite Circle which might explain the prevalence of more mature businesses and entrepreneurs out there. At one point I was lucky enough to have dinner with several millionaires so it was good to talk about aspects of business other than bootstrapping for a change.
Leveraging Other Digital Nomads To Find Accommodation
I knew that there were digital nomads in Ho Chi Minh, and I knew that I wanted to connect with them, but that was about all I knew! Fortunately I'm a member of the #nomads Slack chatroom so I simply went in to the Ho Chi Minh chat room and asked for advice. It turned out that one of the members was leaving Ho Chi Minh the day I was arriving and he offered me his apartment whilst I was staying there.
This turned out to be a massive boon as the apartment was in an area known as 18a which is a street that's practically populated solely by digital nomads, a lot from the Dynamite Circle, and as I walked around I bumped in to 2 friends that I'd met when in Chiang Mai for the Drop Ship Lifestyle conference!
The apartment was basic, but had a big TV, air con, a desk and a sweet old lady who cleaned it but didn't speak a word of English. She seemed to only want to clean it if I was hungover though. When I left she gave me a lucky envelope with a letter in it. When I told everyone how awesome this was, I was then told that lucky envelopes get lucky money and given back!
Củ Chi Tunnels
Just outside Ho Chi Minh are the Củ Chi tunnels, a massive network of underground tunnels that were the location of several military campaigns during the Vietnam War, and were the Viet Cong's base of operations for the Tết Offensive in 1968. The tunnels were used as hiding spots during combat as well as serving as living quarters and supply routes. They were hooked up to a network of tunnels spanning most of the country.
The tour I went on was really awesome and you got to see all the spike traps and things. Fitting in the small tunnels kind of sucked though, not one for claustrophobic people!
The Củ Chi Tunnels also have an epic shooting range where I was able to fire an M60.
Wildlife Rescue Station
As part of the Củ Chi Tunnels tour we also went to the Wildlife Rescue Station. The Cu Chi Wildlife Rescue Station rescues animals that are confiscated from the illegal animal trade in Ho Chi Minh City or other surrounded provinces. This is the fist multi-species rescue station in the South of Vietnam that can takes of many endangered wild species. After the animals have recovered and have been rehabilitated, they are returned back to the wild.
Not many places will tour to the Wildlife Rescue Station so I was lucky to find a tour that did. They don't often allow visitors. Unlike the zoos I've visited on my travels, the animals here were actually well cared for and seemed quite happy.
Cao Đài Temple
Caodaism is a monotheistic religion officially established in the city of Tây Ninh in southern Vietnam in 1926 and they have the coolest temple ever. This was the last stop on the tour and it was quite cool watching the believers as they prayed.
Vietnamese Food
After all the clean living, and terrible western food, the first thing on my mind when I landed was burgers! I found an awesome place called Chucks that did straight up, awesome burgers. I also had had to eat Pho, several times over, which was amazing. In fact, I can say  that, on boring days back home I would visualize landing here, getting my Vietnam visa on arrival dealt with and going straight to a renowned pho soup place. The most memorable experience however was Baba's Kitchen though. After eating at every Indian restaurant in Chiang Mai and experiencing sub-par, weak Vindaloos I was starting to feel like an invincible iron man who could handle any type of spice thanks to devouring pad ka prao daily. Turns out that the Chiang Mai restaurants were just piss poor. After 3 minutes the waiter at Baba's came out and bought me yoghurt. Best vindaloo in Asia for sure!