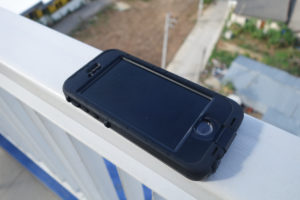 I'm one of those people that likes to actually use things, rather than pamper them, and my phone is no exception. I also like a nice phone that isn't covered in scratches and hasn't experienced water damage. When I bought my iPhone 5s back in June last year (11 months ago) I knew that I'd need a rugged case to have a hope in hell of keeping it working based on my experience carrying an iPhone 4 through Kazakhstan and Mongolia. The phone was waterlogged on day one due to heavy rain in England, repaired a week later in Prague, then somehow a hole appeared in the glass front which kept spreading as chunks of glass fell out, letting water and dust in. 2 days back in England it just decided to stop working entirely. Never again!
The [amazon text=Lifeproof Nüüd iPhone 5s case&asin=B00H3T48A4] comes in 2 parts that sandwich your phone, completely enveloping the entire phone, other than the screen. There is a gasket around where the case fits the screen which keeps water out and the case comes with a see through screen protector that doesn't inhibit touch sensitivity in any way, keeping the glass scratch free.
The case is rated to a depth of 2 meters for an hour. It is not an underwater case for divers, rather your last defence against dropping it in a sink or toilet or somehow ending up in the sea or a swimming pool whilst carrying it. When I got the case my friends had a fun game of putting my phone in my pint. Dick move but the case did it's job. Over the last 11 months the case has also weathered swimming pools, the sea and the Thai Somgkran water fights. My phone suffered no damage! The phone also survived Thailand's rainy season. Often I'd get caught out only for my pockets or bag to actually flood and fill with water. With out the case I'm pretty sure Thailand's weather would have drowned it.
The outer case is made of a hard rubber, offering shock protection for drops of up to 2 meters. This is the game changer for me because whilst all the interactions I've had with water so far have been intentional, I drop my phone accidentally, a lot, on all kinds of surfaces, including hard concrete. The case has stood up to everything I've thrown at it, literally. Due to the raised lip around the screen, the screen is also protected from drops on to surfaces.
To complete the waterproof experience, there is a detachable 3.5mm phono cable that screws in to a purpose built hole. This creates a watertight seal allowing you to plug your own headphones in. It's a bit of a pain to be honest as I keep accidentally leaving the cable at home, and am deathly afraid of losing it, but it's also the only way to make the case waterproof whilst still offering sound, unless you go bluetooth… mm Dre Beats anyone? 😀
I've been using the [amazon text=Lifeproof Nüüd iPhone 5s case&asin=B00H3T48A4] solidly for 11 months now under all kinds of conditions. It's experienced 15 flights, beer, swimming pools, water pistols, sand, sea, concrete floors, being in the same pocket as my keys, flooding whilst in my gym bag, countless other mishaps and it's still going. The exterior is showing signs of weathering though as you can see from these pictures. Probably down to abrasion as much as anything else. I think the case is still going to be good for at least another year the way it's going though as the external damage is minimal and doesn't effect it's waterproofing in any way.
This review couldn't be complete with out some shots of the iPhone 5s outside the case. As you can see the phone is pretty much in perfect condition. There is a tiny amount of damage along one of the edges, but nothing compared to what my mate's iPhone 5s ended up looking like after just one week with out a case. They are notorious for losing their finish along the edges. The glass and back are completely scratch free and when the time comes to upgrade I should be able to get a good price for the phone still. One of the nice things about Apple products is they do retain value if kept in good condition!
One criticism of the [amazon text=Lifeproof Nüüd iPhone 5s case&asin=B00H3T48A4] is sometimes people can't hear me when I speak and I often have to clean the inside around the camera lens cover as it has a habit of making the photos blurry (you might have noticed that on this blog!). These issues aren't that big of a deal though as without this case I wouldn't have a phone!