There's not much to do on Soi Ta Aed, the road Tiger Muay Thai is on, other than train, eat and get massages so I've been escaping out to sea with the help of Phuket Dive Tours and its awesome owner Dave.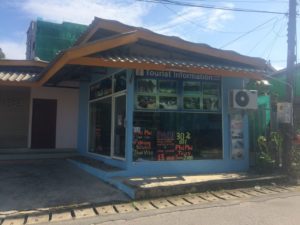 Phuket Dive Tours
https://www.phuketdivetours.com
10/10 Soi Ta Aed, Chalong, Phuket, 83130
Phone: +66 87 022 5356
I'd previously booked a snorkling tour of Koh Phi Phi through Phuket Dive Tours which was absolutely fantastic and before I came to Thailand I knew I wanted to get some scuba diving in and I knew what gear I wanted to try after reading some of the
top snorkeling product reviews
. So, it was a no brainer to do my PADI Open Water and PADI Open Water Advanced with Phuket Dive Tours too!The PADI Open Water was a 3 day course, day 1 in a swimming pool then 2 days out on the boat, the Open Water advanced was another 2 days out on the boat. It's a great way to spend a weekend and take a break from training!
One of the reasons Dave and Phuket Dive Tours stands out is the customer service. Next year I've arranged a week of spear fishing with some friends and Dave spent 2 days driving me around Phuket helping me get together all the equipment I need for it. He also personally gives lifts to and from his shop to the pier!
It's hard not to give Phuket Dive Tours 5/5! – Rus!
Over the 10 dives I've done so far, we've dived a wreck, seen sharks, turtles, sea snakes, eels, seahorses, mantis shrimp and hundreds of huge shoals of fish!.
We've also visited beautiful coral reefs and dived along side natural sea walls lined with sponges and sea anemones
One of Phuket Dive Tour's fantastic diving instructor, and a rather blurry seahorse! Underwater photography is pretty difficult with everything moving all the time!
The dive boats are pretty cool, typically the bottom deck has an outdoor area where all the tanks and equipment lives and then a small, dry indoor compartment, and then there's another open compartment on top where people can relax. Breakfast and lunch is also included with a seemingly endless supply of coffee! They also have warm showers and beer!