The entire purpose of my European rail adventure was to head down to Barcelona, Spain, to live in one of Chris Reynold's Entrepreneur Houses for 4 months, get some serious work done and get a handle on my type 2 diabetes situation.
The premise was simple, at any time 10-15 entrepreneurs were living together as a social and work collective, with regular organised dinners, social events (beach trips, running of the bulls, etc), co-working and most importantly masterminds. It was absolutely amazing to be able to drop in to a new city (and country) and be given the keys to an affordable apartment as well as an instant social circle of amazing likeminded individuals who have now become friends for life.
I'd been hearing about Chris' Barcelona project since I arrived in Chiang Mai for Christmas. Some very successful friends of mine were talking about their plans for the summer and mentioned it so I had a chat with Chris over email and paid him remotely whilst I was still in Phuket! Chris gave me an address to meet him at and then 6 or so weeks later I turned up, bags in hand!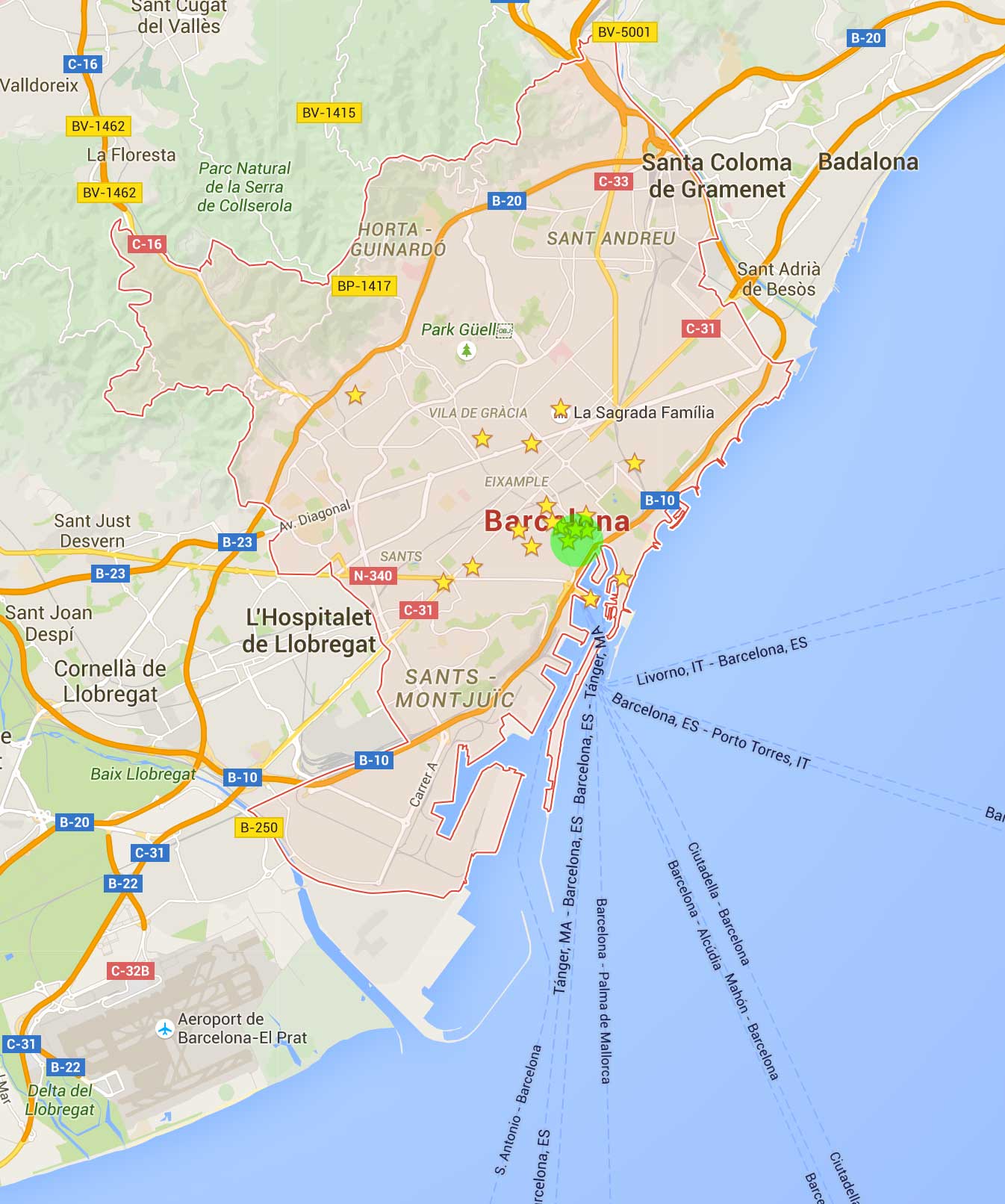 People came and went, Chris (the organiser), myself and one other were there the longest, some people stayed for one month, others 2, and it was fascinating to keep meeting new people, grow with them, socialise with them and help them with their very unique business problems as well as get feedback on mine.
Everyone knows I can be bought for the price of a cup of coffee and one of the highlights for me was at the very end with a sit down with a new friend for a consultation for turning their business model in to a SaaS which resulted in my amazing (but messy :D) flatmate of 4 months becoming their new CTO. (Don't fuck it up please or I'll look bad!!)
Some people came to slog out work, working on existing businesses or launching new ideas. Some new ideas succeeded, others failed quickly, sometimes a pivot turned a failure in to a success. Not every idea can work and not every idea can get results within a matter of days, but its amazing to see that happen from the side lines, especially when your friend has been working so hard on it.
Others came more to chill out as they'ed already built a successful business and now wanted to test out travelling whilst running it, which was great as I was able to join them for mini shopping trips and sneaky lunches whilst we chatted about love, life, business and the world.
Whilst I and a few others created a similar experience to this in Phuket, brain storming and co-working together after training, this was the first time I've ever done anything full on like this and I think that to maintain what I'm doing, and grow both as a person and with respect to business, I need to have an experience like this at least once a year. Fortunately I have found something similar for the moment in Bangkok but I definitely want to join up with Chris in South America at some point though maybe 2017..
Masterminds
Not many people understand the importance of masterminds and when I went to DNX Global I sat in a conference hall full of people who had never even heard of them. Essentially it's a regular brain storming session with people around your business ideas and problems to get feedback and critique. I'd been doing them back in England for the past 4 years with my entrepreneur friends, all be it loosely, as we'd been operating similar businesses with similar problems. One of the great things about Chris' Entrepreneur House experience was he did it in a more formalised way.
Each Wednesday everyone would meet together and have a meeting where something creative would be posed as a brain storm puzzle or teaser to get us in a creative mood. One time someone posed the question "You have 2 weeks to create a new business model to raise $50k, what would you do?" as I'd been pondering this very question for the past 10 years most of my answers would have landed me a few years in the Bangkok Hilton but everyone else's answers were really awesome.
After the creative start, 2-3 of us would then spend an hour in the hot seat, doing a show and tell presentation on their business in general and the problem they need help with. Everyone would then give feedback and offer assistance.
The unexpected reason this was amazing was because everyone was coming from different backgrounds and experiences. When I'd done this kind of thing before everyone was well versed in IT to some extent, either as a business owner, a coder or a sys admin. This time we had people from the catering industry, people running contractor agencies, ecommerce wizards, the range of expertise was incredibly diverse which meant new insights to old problems could be found quite easily.
I ended up doing 3 mastermind sessions. mostly asking for critique on ideas I had for my businesses and got a lot of value out of it. My last session came across a little self absorbed as it was more about personal development rather than business and I worded the question wrong but I still got amazing feedback essentially saying I should give back in some way, so I'm now mentoring someone my Bangkok personal trainer for 1 hour each day, helping them with their online business as well as get their physical business off the ground.
Fitbit
In Phuket when I was diagnosed with type 2 diabetes I was super lethargic the entire time and unable to train or go to the gym so I bought a Fitbit Surge and tried to do some walking each day. When I arrived in Barcelona I was feeling pretty good and joined a gym, only to decide I hated it. For whatever reason I wasn't enjoying it so I broke out the Fitbit again and took to the streets.
Barcelona is one of the most amazing cities to walk around, there are tons of winding little alleyways, as well as the sea front on one side, the hills and Olympic park of Montjuïc on another and then the mountain range of Tibidabo. I started just walking around to get my 10,000 steps a day in, then started getting adventurous, exploring everywhere I could and the more I explored, the more Fitbit awards I achieved, motivating me to walk further each day. My record for Barcelona was 55,000 steps, when I decided to walk round the entire of the city (roughly) by the time I got back to my apartment I'd basically done a marathon, so I carried on walking around town until I'd hit 26.4 miles. A week later we went to Montserrat where we hit over 200 floors climbed whilst we went hiking around the mountain and monastery. Barcelona, for walking, is amazing and I became a massive Fitbit addict, adding a Charge HR to the line up!
Keto Diet
Looking at my blog you can see that I spent 2-3 weeks drinking, smoking and eating junk as I travelled from Oslo through to Barcelona. Terrible behaviour for a recently diagnosed T2 diabetic to have but it was a last hurrah. As soon as I arrived in Barcelona, I stopped drinking, stopped smoking, switched up my diet to a calorie counted ketogenic diet, booked my self in to visit an endocrinologist and came off my medication. Because Chris was doing all the organisational work and most of my income being passive I was able to invest time in to my health, which was the entire purpose of this 4 month period.
The keto diet took some getting used to and I had to supplement for the first 3 months with potassium and magnesium, else I'd feel fatigued. This is due to an electrolyte imbalance occurring due to excessive peeing. Eventually this did sort itself out and now I just eat the occasional processed sausage.
What was great about the diet was that it made my cost of living really cheap. Spinach, chicken, broccoli, minced beef and butter costs peanuts so my daily spend was tiny and there was plenty of room for variety!
Diabetes
On the 11th June 2015 when I met my endocrinologist, my hba1c was 6.4% or 46mmol/mol. I'd also received some liver damage due to the 2-3 weeks of drinking, my AST was 118U/L and my ALT 69U/L they should both be less than 40 and 46 respectively!
After 3 months of clean living and exercise, I'd lost all of the weight I'd put on during the rail trip going from 83kg to 76kg but then put 4kg back on after I gave up nicotine patches!! Going back to 80kg.
The next round of bloodwork was done on the 29th September 2015. My hba1c was down to 4.6% or 27mmol/mol and my AST and ALT were down to 17U/L and 13U/L respectively. My hba1c was amazing and my liver was back to perfectly healthy! Whilst I definitely wasn't cured, I was in much better shape looking after myself properly than I had expected!
Business
Due to the nurturing from the Entrepreneur House, over the summer my passive income projects exploded, killing it with the old affiliate stuff I was phasing out and releasing 1 new brand and 3 new physical products.
A lot of work was done on Amazooka in the 4 months I was in Barcelona, both from a development point of view and from a systems point of view, creating something genuinely unique that can expand massively, helping Amazon sellers get to grips with what they are doing! Whilst there was some drama around the marketing and unexpected launch of Amazooka, because of the way the situation was handled, I was let back in to the Dynamite Circle and built some fantastic relationships with people running other Amazon related SaaS tools, all of which inspired me to return to Thailand, moving to Bangkok, to grow Amazooka and take it to the next level. I have to say a massive thank you to everyone in the Entrepreneur House with me at that time, as with out you guys I would have cracked up completely during this!
You are the average of the five people you spend the most time with.
It's impossible to directly quantify how beneficial being in surrounded by so many entrepreneurs was but it is obvious that I got more value out the experience than I paid for. A few people were turned off by the price of the Entrepreneur House, saying they could live in the same location for less. The value of Chris' Entrepreneur House isn't the brick and mortar flat you live in and the bed you sleep in though, it's having access to other, successful, like minded individuals. The price presents itself as a barrier to entry so you are living and working with people successful enough to afford it, people who's behaviour, knowledge, work ethic and input to your own business will be inherently valuable. If you're the average of the five people you spend the most time with, what do you think you'll be like after spending time with 15 amazing, motivated, inspirational entrepreneurs?
You don't get to do what you want by doing something else.
Whatever goal you're working towards, you'll be able to achieve it in the Entrepreneur House. I gave up a bunch of vices, lost even more weight, completely got a handle on my diabetes, and totally dominated across all 3 of my business ventures. I smashed every single goal I had set myself thoroughly and so did everyone else around me.
Vicky Cristina Barcelona
I've been wanting to watch Vicky Cristina Barcelona for a while as Scarlett Johansson is dead sexy and one of my good friends back in Brighton switched me on to how awesome Woody Allen films can be. During the summer on of my friends from the UK who became a nomad, primarily based in South America, came to visit, so we decided to follow up from what I'd started in France, watch Vicky Cristina Barcelona and then visit as many places in the area that had appeared in the movie as we possibly could! It worked out quite well as it involved a lot of walking, a lot of sight seeing, we both lost weight and we also both got a lot of work done.
Barcelona Museum of Contemporary Art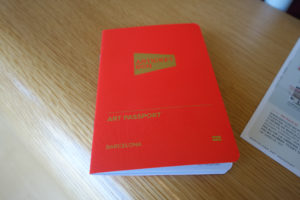 We bought a Barcelona Museum passport, which let us go in to all the museums at a discount price! I am not very good at museums, but I like them. Mostly I just walk around and take pictures of cool stuff. I can't remember which one specifically was Barcelona Museum of Contemporary Art but they were all pretty awesome!
Casa Milà
You can visit Casa Milà during either the day or the night. As we were in full tourist mode we opted for both, which was a shame. Whilst the day was interesting, when we went during the night we
had
to be part of a guided tour, which just took us through all the stuff we'd previously seen earlier that day at a snails pace. The perk of the night tour though was the lit up roof which had a 20 minute light show which was amazing.
Les Rambles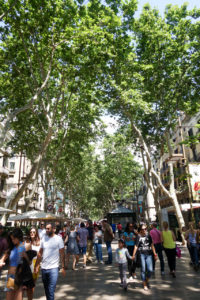 Les Rambles was kind of cheating, as I lived next to it, so didn't have to walk more than 10m from my flat to find it. It's a horrible place. During the day it's full of tourists that get in your way and during the night its full of drug dealers and prostitutes. Whilst I have nothing against drug dealers and prostitutes, they are very in your face, and most of us were in some way straight up sexually assaulted whilst walking through. I got my junk grabbed plenty of times and watched 2 fugly tranny hookers attack an old guy who refused their advances whilst walking back. There are legitimate places to go if you want that kind of thing in Spain so the last thing you want is a street walker anywhere near you. The dealers are also super persistent shouting at you, Coke, Marijuana, Beer, repeatedly. Barcelona was voted the filthiest city in Europe, so now they clean the streets with pressure hoses twice daily. After all the cities I've been to, and all I've witnessed, Barcelona is still filthy.
Parc de Montjuïc
Montjuic is a pretty cool place, theres the remains of the Barcelona Olympic Park, a huge forte, loads of hills to walk around, restaurants, cafes, parks, this was one of my favourite spots and it was only a 10 minute walk from my flat to get in to the heart of. I took great pleasure introducing my friends to it when they came for walks with me as they had no idea!
Park Güell
Park Güell was pretty awesome, but the graffiti and everything else in the area showed how much the locals hated the tourists. It was good go see more of Gaudi's art in a different manner.
Church of San Felipe Neri
This place was bombed during one of the wars, and you can see bullet marks all over the walls. It's also full of teenagers making out 😮
Sagrada Família
What can be said about the Sagrada Família that everyone doesn't already know? It looks amazing, it's taken way too long to complete but it's getting there! It's a mecca for tourists and rammed with people non stop. It was awesome!
Ciutadella Park
Tibidabo
Tibidabo is an awesome place full of fun. It's in a mountain range and you can see if from where ever you are in Barcelona because it's so high up! As such is offers amazing views of the city. There's a tram and a funicular to take you to the top, which was great fun (the clue is in the name!) and when you get there theres an awesome little amusement park too. I walked there from the sea front several times and did some great day trips with my friends.
Hotel Casa Fuster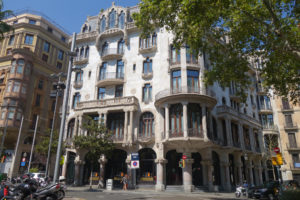 We didn't actually go inside the Hotel, but we walked past it and it looked nice. I'm sure it's lovely ..
Museu Nacional d'Art de Catalunya
This museum was awesome!
Els Quatre Gats
Els Quatre Gats is a nice, but slightly overrated restaurant, originally opened in 1897! The food was delicious.
Taller de Tapas
Taller de Tapas is a chain of tapas restaurants and featured at the end of the film, I think! I'm not sure if we got the right one, but we think we did! The food was pretty tasty!
Summary
I spent 4 months in the Barcelona Entrepreneur House operated by Chris Reynolds, in that time I made more amazing friends than I ever hoped to, sharing some awesome experiences with all of them, getting help and support whenever I hit a snag and hopefully helping out a few of the people I met myself. Inspired by Chris I created a Digital Nomad House project, Amazooka blew up (in a good way) my physical product business doubled in size and I got a grip on my health, with a bit of paper saying I'm just as healthy as a normal person 😀 (Oh, and I was well within budget too!)
I really can't gush enough about how fucking awesome every day was to be completely frank about things.