We decided to go and watch the football at the Wahoo bar yesterday and I saw their beer and a burger for £4.99 offer and couldn't say no!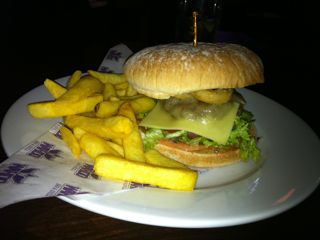 For £4.99 you get a burger on a white bun, loaded with salad, gerkins, 2 hash browns and a side portion of chips. You also get a drink, either a bottle, something on draft or a soft drink, I opted for a pint of Kronenburg!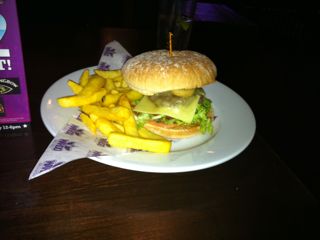 As you can see from the picture, the burger is rather stacked, it's quite tall, but the actual burger itself is half the diameter of the bun.
It was very easy to eat though as I squashed it down through the middle causing the burger to spread out and fill the bun.
The girl serving didn't take my table number and then forgot what I looked like and gave the order to someone else to bring to me who got a little confused as she didn't know where or to whom she was taking it. Also I wasn't given any sauces and in the confusion forgot to ask and was too lazy to get up out of my chair.
The burger itself was very tasty, the combination of gerkins, meat and hash browns yielded a nice mix of crunchy and soft and there were lots of different flavours coming through.
The meat itself was a little bland and thoroughly cooked through, which is just as well this time even though I quite enjoy a little bit of pink in the middle now and again.
Not the best burger I've had, especially compared to a Wetherspoons burger at a similar price, but very reasonable none the less.
Would eat again, but I wouldn't go out of my way for it.