The Royal Pavilion Tavern, aka Pav Tav, is a pretty popular student venue in the evenings, but lunch time, on a Saturday, it's mostly OAPs, but they do beer and a burger for £4.99 so it had to be tried, especially as I'm working today!
I opted for the Chilli Burger with Cheese and a beer, at £5.59, and upgraded to curly fries for an additional 69p, so all it all it came to £6.28, and of course soda and lime instead of a beer 🙂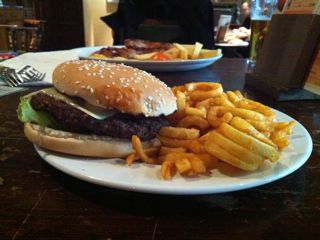 As you can see, what we have here isn't exactly anything special. It was a generic burger, with some lettuce and tomato inside a white sesame seed bun. On top of the burger was some chilli, and then a slice of elemental cheese.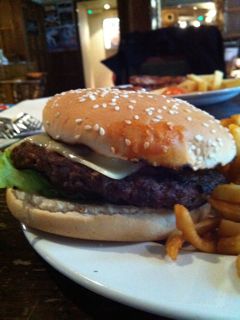 The bap was a little dry and very uninteresting, the meat was pretty flavourless but oozed a lot of fat, the chili had no taste and no heat, I didn't really notice the cheese either. The tomato tasted nice and the curly fries generic curly fries, so quite tasty.
In short, terrible, will not eat at again, ever.
There are better places for the same price, or less, who also have cute waitresses!