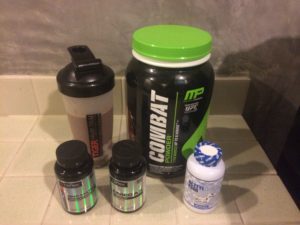 After taking Thursday off because of DOMS and still being jet lagged I decided to do yoga then the cross training today. I went to bed at 10pm and then fell asleep at 6am just before the yoga started, which was useful. So today was just cross training. And it sucked.
The format of the class was a worm up, which killed me in itself, then 2 WODs. I prefer what we did at CrossFit Hove, which was a short warm up, followed by strength or skill training for 30 minutes and then the WOD at the end, so I'm going to have to chat to one of the Strength & Conditioning coaches to sort something out, or just do the Black Iron Beast routine I was doing at CFH originally on the side.
I've forgotten what the 2nd WOD was because the first one completely whipped me out. I scaled all the movements by 50%, e.g. I just did 30 burpees, and I still came last.
After we'd packed up from the first WOD I skipped the rest of the class, went home, jumped under the shower then dived in the pool. I'm trying to get in as much swimming as possible as it's relaxing, easy on the joints and a lazy way to burn some calories.
WOD 1
60 burpees
50 plate over head lunges
40 situps
30 double unders or 90 singles
20 press ups
10 man makers
Supplements
As part of the Tiger Muay Thai package I'm on I get a bunch of exciting supplements, pictured above. I opted for the chocolate whey protein and after two days of using it, I still haven't had the shits, which is really good going. There's also Zinc supplements, L-Carnitine and Omega-3. Everything a growing boy needs!
Muay Thai
I still haven't taken my first Muay Thai lesson because lets face it, if I can't cope with an hour of cross training, I'm not going to do very well with a 2 1/2 hour Muay Thai lesson! There's no cross training tomorrow, so if I can get up in time I'll do a yoga class followed by the BodyFit.